Skincare Routine for Oily Skin: Balance & Support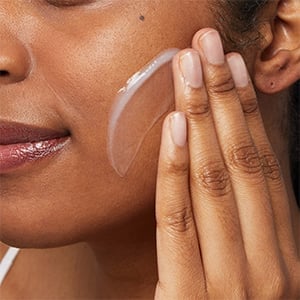 Oily & Acne Prone Skin Care
If you have an
oily skin
type, implementing a tailored daily skincare routine is one of the best ways to help balance your complexion. The right skincare ingredients and products can help minimise shine and other unwanted signs of an oily complexion. Oily skin still needs hydration, but it's important to choose non-comedogenic products that won't contribute to clogging your pores.
Read on to find out what causes an oily face, as well as how to know if you have this skin type. Wondering can oily skin use Hyaluronic Acid? We'll also cover the best ingredients for oily skin, before detailing a step-by-step skincare routine.
What is oily skin?
Oily skin vs dry skin has different skincare needs. Taking the time to understand your skin type is the first step to implementing the skin routine that will suit you best.
In terms of how to tell if you have oily or dry skin, looking for the tell-tale signs of shine or dullness is one simple strategy. Other signs of oily skin also include enlarged pores and blackheads. If you're not sure whether your levels of oil are normal or excessive, try patting your face with blotting papers. Normal skin should only leave a small amount of oil on the skin from certain areas, while oily skin will leave more oil from all over.
What is an oily skin type caused by?
Oily skin can be caused by environmental, lifestyle or internal factors. Environmental and lifestyle factors include stress, warm weather and over-cleansing your skin, prompting your sebaceous glands to produce more oil. Internal causes of oily skin include hormonal imbalances and genetics. No matter the cause of your oily skin, a well targeted skincare routine can help manage this skin concern.
What ingredients are good for oily skin?
If you have this skin type, you've likely wondered does oily skin need moisture or hydration? Oily skin is often thought of as the opposite of dry skin, however there are some things that all skin types need. Very oily skin types can occasionally skip moisturiser if needed, but hydrating ingredients are an important part of your skincare regime for every skin type.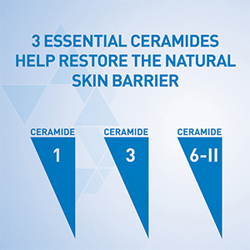 Why does oily skin need hydration?
Put simply, there's a difference between surface dryness and skin dehydration. Oily skin is still vulnerable to the latter, where there aren't enough water molecules bound to the skin's surface and its outermost layers. If heavy moisturisers don't work well with your oily skin, opt for a lightweight moisturiser or hydrating serum featuring targeted ingredients as recommended below.
Ceramides:

You can think of ceramides as the building blocks of the skin's natural protective barrier. These lipids (oils) help protect skin against dehydration and environmental aggressors. CeraVe skincare is enriched with 3 essential ceramides to help strengthen the natural protective skin barrier.

Hyaluronic acid:

Hyaluronic acid is a water attracting sugar found naturally in the skin and responsible for its volume and plumpness. Why is hyaluronic acid good for oily skin? This powerful ingredient acts like a sponge to draw in 1,000 times its own weight in water, perfect for hydrating all skin types.

Salicylic acid:

This beta hydroxy acid has long been used to help unclog pores and manage oily skin and skin prone to mild acne. Salicylic acid can be found in cleansers, serums, moisturisers and more.
How to control oily skin with a CeraVe skincare regime?
Cleanser
Look for a gentle facial cleanser. A foaming cleanser formula is ideal for removing excess oil, dirt, and makeup from an oily complexion. Our CeraVe Foaming Cleanser is designed to act as an ideal cleanser for oily skin. This cleanser features ceramides, hyaluronic acid and niacinamide to help strengthen the skin barrier, attract hydration, and comfort the skin.

Gently massage on a damp face before rinsing and gently patting dry.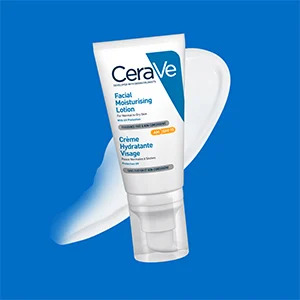 Moisturiser
Choosing a non-comedogenic face moisturiser formula with a lightweight texture is an important part of how to reduce oil production on your face. In the morning, we recommend a formula including sun protection like our CeraVe AM Facial Moisturising Lotion with SPF 15. This non-comedogenic moisturiser is suitable for all skin types, including oily skin.

In the PM, our CeraVe Facial Moisturising Lotion utilises hyaluronic acid and ceramides to help combat trans-epidermal water loss (TEWL) overnight.

Apply your moisturiser of choice over your face and neck as needed.
Eye Cream
The skin around your eyes tends to be thinner, and more vulnerable than the rest of your complexion. That's why it's important for all skin types to target the eye area with a dedicated hydrating eye cream.

Our CeraVe Eye Repair Cream is formulated with a Marine and Botanical Complex to help brighten the eye area, visibly reducing dark circles and puffiness.

Apply in small dots around the eye area and gently smooth until absorbed.
Now that you're educated on how to reduce oily skin, read our Guide to Salicylic Acid For Oily & Acne-Prone Skin to learn more about this useful skincare ingredient.