How to Care for Dry Hands: Moisturising Tips
EVERYDAY SKINCARE
Dermatologist's Tips For Taking Care of Dry Hands
With increased attention on hand hygiene, hand washing has become more frequent, leading to a rise in those experiencing dry hands. Whilst crucial for sanitation and cleanliness, overwashing can lead to rougher and drier skin on the hands. NHS Consultant Physician and Medical Director of Adonia Medical Clinic, Dr Ejikeme explains that there has been a rise in dry hands and sensitive skin as a result of extra washing, as well as the use of hand sanitiser and cleaning products.
Managing dry hands is simple when you understand both what triggers dry skin on hands, and which hand moisturisers are best for your skin care needs. An effective moisturiser for dry hands will protect and strengthen your skin's barrier, leaving you with soft, healthy-looking hands.
Tips for Dry Hands
If you experience dry skin on your hands, follow Dr Ejikeme's care tips to help nourish and protect dry hands.

Understanding Your Skin Type For Best Results
Limit Hand Sanitiser

There is no need to use both hand sanitiser and hand washing with soap together, pick one effective method of handwashing to help prevent over-cleaning. When possible, try to wash your hands with soap and warm water for 20-30 seconds instead of always using an alcohol based hand sanitiser. While hand sanitiser is practical when soap and running water is not available, the high alcohol content can exacerbate dry skin on the hands.


Use a Cleanser with Hydrating Ingredients

Choose a hydrating cleanser which will cleanse and refresh the skin without stripping it. The CeraVe Hydrating Cleanser contains three essential ceramides and hyaluronic acid, an ingredient that retains moisture by holding a thousand times its weight in water within the skin's cells. The right cleanser will remove dirt, oil, and build-ups without leaving the skin's protective barrier more vulnerable to dryness.


Avoid Overwashing

Try to control the amount of hand washing while still practising good hygiene. Always wash your hands when you think you have come into contact with harmful germs and bacteria, like after taking out the rubbish. However, only wash when necessary.


Wet Hands Before Adding Soap

Place your hands in water before adding soap to help protect the skin. Water acts as an extra barrier to cleaning ingredients providing a level of protection to the skin when washing.


Apply Hand Cream

Always apply moisturiser to hands after washing and patting the skin dry gently, and be sure to reapply throughout the day. Choose a deeply moisturising hand cream like the CeraVe Reparative Hand Cream, which is formulated with three essential ceramides that help maintain the skin's protective barrier.


Full Hand Coverage

When applying a cream to dry skin on hands, ensure you cover the front and back of your hands, paying particular attention to the areas in between the fingers. To achieve the best results, ensure you massage into all the cracks and corners of your dry hands.


Extra Dry Hands Require Extra Care

For very dry hands, try applying a generous layer of hand cream and let it sit on your skin, only rubbing it in after 10 – 20 minutes.
Recommended Products for Dry Hands
The CeraVe Reparative Hand Cream is suitable for dry, extremely dry and rough hands. It deeply moisturises dry hands that can result from overwashing and sanitising. The CeraVe Reparative Hand Cream contains three essential ceramides and hyaluronic acid which are essential in supporting and protecting the skin's barrier, and retaining moisture. CeraVe Reparative Hand Cream absorbs quickly and is gentle on the skin, making it ideal for application throughout the day.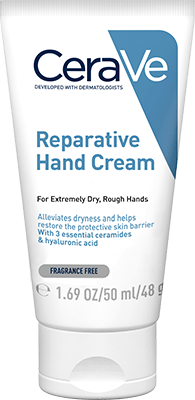 Key Features of the CeraVe Reparative Hand Cream
• MVE® (Multivesicular Emulsion) Technology that delivers controlled, long-lasting hydration for up to 24 hours
• Hyaluronic acid: an ingredient that retains moisture to help rehydrate skin
• Rich, non-greasy cream texture
• Hypoallergenic with no artificial fragrances
• Developed with dermatologists.
How to Take Care of Dry Hands
When applying the CeraVe Reparative Hand Cream, be sure to include around your nails and wrists for full coverage. Reapply liberally, as needed.