How to Improve & Smooth Skin Texture
SENSITIVE & REACTIVE SKIN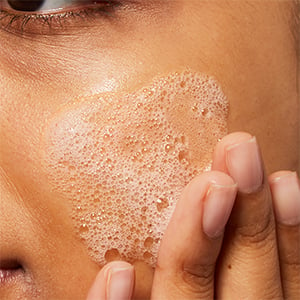 If you're experiencing rough and bumpy skin on your face or body, you're likely wondering how to deal with textured skin. The best way to manage rough and bumpy skin is to understand its causes, so this article will cover what causes textured skin on the face and body.
Oily skin can often have a more uneven texture, but so can dry skin. For this reason, skincare formulas designed for rough skin need to balance exfoliation and hydration in the one product. Read on to learn everything you need to know about how to improve and smooth skin texture, including lifestyle tips and tricks and product recommendations from the CeraVe range.
What is textured skin?
If your skin is prone to bumps, visibly enlarged pores, roughness or keratosis pilaris, you fall into the definition of uneven, textured skin. Skin with uneven texture can mean a complexion that looks dull or uneven, leading many people to seek out skincare products to help create smoother, softer and more even skin.
What causes uneven skin texture?
When it comes to what causes uneven, textured skin, there are a range of causal factors at play. In the first instance, both environmental and internal factors start off the process of creating skin texture. These include stress, hormones, dehydration, pollution, the ageing process and your genes.
These factors can in turn cause your skin to produce too much sebum (oil) and a build-up of dead skin cells, with potential end results including blocked pores, bumps, visibly enlarged pores and overall more uneven skin texture.
How to improve uneven skin texture?
The question of how to help textured skin requires a multifaceted approach, working from the inside out for optimal results. Here are some lifestyle tips to help you get smoother skin.
Increase your water intake
It's a well-known fact that drinking plenty of water is great for your skin, especially since dehydration is directly linked to a dull, uneven looking complexion. Dry to very dry skin is rough skin, so it's important to drink more water to hydrate your skin cells from the inside out. Increasing your water intake also helps flush toxins from your body, limiting their impact on your skin.
Wear SPF protection
The link between sun exposure and skin damage is strong, however you might not know that UV damage has been shown to directly affect skin texture. Furthermore, UV exposure accelerates the breakdown of skin's collagen, leaving your pores with a weakened support structure. Skin laxity around your pores can cause the pore walls to expand, creating visibly enlarged pores and uneven skin texture.
Add targeted ingredients to your skincare routine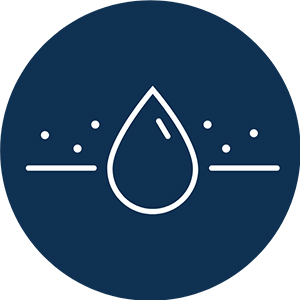 By swapping out your regular skincare products for options with formulas designed to help smooth rough and uneven skin, you can ensure your products have optimal benefits for your skin concerns.
What ingredients are good for uneven skin? We recommend looking for ingredients classified as chemical exfoliants to target skin texture. These ingredients get rid of dead skin cells by dissolving their bonds to the skin's surface and enabling them to be sloughed away. Some chemical exfoliants can also penetrate pores to help remove excess sebum and impurities.
The types of chemical exfoliants used most commonly in skincare can be divided into alpha hydroxy acids (AHAs) and beta hydroxy acids (BHAs). Originally derived from plants like willow, salicylic acid is one of the best chemical exfoliants for uneven skin. Salicylic acid is a versatile ingredient suitable for several skin types including skin prone to mild acne and oily skin. This impressive ingredient can be found in cleansers, serums, moisturisers, masks and more.
To learn more about these powerful ingredients for rough and bumpy skin read our article What are Chemical Exfoliants for Skin?
Discover CeraVe products for rough and bumpy skin
Products designed to help manage rough and bumpy skin are a key method of how to get smoother skin. Discover the range of CeraVe smoothing skincare options.
CeraVe SA Smoothing Cleanser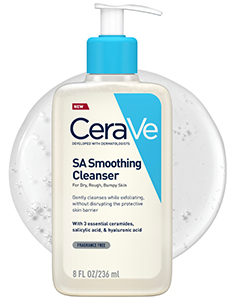 Our CeraVe SA Smoothing Cleanser is an ideal way to incorporate salicylic acid into your skincare routine from the first step onwards. This expertly formulated facial cleanser gently cleanses, softens and smooths dry, uneven, rough and bumpy skin.
Salicylic acid exfoliates to help manage clogged pores and texture without compromising the skin's natural moisture barrier, thanks to the inclusion of 3 essential ceramides and hyaluronic acid. All traces of oil, dirt and makeup will be removed, since this formula can penetrate your pores for a deep clean of any residue.
CeraVe SA Smoothing Cream
Our CeraVe SA Smoothing Cream combines the power of alpha hydroxy acids and beta hydroxy acids to help manage dead skin cell build-up, clogged pores and rough patches.
The cream moisturiser texture and inclusion of hyaluronic acid and ceramides help maintain 24 hour skin hydration while simultaneously smoothing the skin.
CeraVe Renewing SA Foot Cream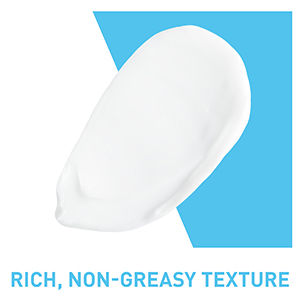 Our CeraVe Renewing SA Foot Cream is the answer to how to have smooth skin in this dryness-prone area of the body. Dry, rough and flaky heels are an especially common skin concern, which is why CeraVe formulated this smoothing foot cream with salicylic acid to help exfoliate and soften the area.
The non-greasy formula absorbs quickly into your skin, so you can apply liberally as often as your skin needs.
Now you're well informed about how to get an even skin texture, read up on the Benefits of Ceramides For Skin.