How to Care for Sun Damaged Skin
EVERYDAY SKINCARE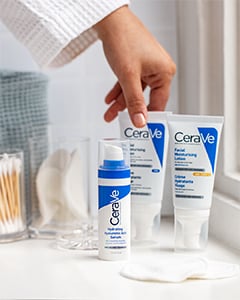 Everyone knows that sun exposure is bad for your skin, but the true extent of UV rays' effect on skin is more serious that many please fully appreciate. UV skin damage can cause premature visible skin ageing, DNA damage and can lead to the development of skin cancers.
So, if you've found yourself with sun damaged skin, how can you care for your sun exposed skin? CeraVe research¹ shows that using skincare products enriched with skin barrier supporting ceramides and hydrating actives can alleviate the effects of sun parched skin. Read on to learn more about how sun damages the skin and how to support sun exposed skin via your skincare regime.
What is UV skin damage?
When you think of sun damaged skin, the immediate facial and body redness associated with sunburn might be the first sign that comes to mind. However, the immediate sunburn effects of sun damage on the face and body can be just the tip of the iceberg. Because sun damage also happens deep within your skin's cells and layers, the different types of sun damage to skin can take years to become fully visible. Let's walk through some of the main visible signs of skin damage from UV rays.
Dark Spots
When it comes to identifying sun damaged skin, dark spots (also known as sunspots or age spots) are one of the key tell-tale signs. Dark spots of this kind tend to be flat and brown or greyish in colour. They occur when sun exposure to the skin triggers an overproduction of melanin which manifests as a dark spot over time.
Wrinkles and fine lines
Fine lines and wrinkles are an inevitable part of the natural ageing process, but too much sun can increase the pace and prevalence of line appearing. Collagen and elastin (the proteins responsible for keeping skin plump, bouncy and elastic) decline with age, but exposure to UV radiation can accelerates this process.
Uneven skin tone and texture
Sun induced skin pigmentation and texture variances are another key effect of UV exposure over time. These effects come down to a decrease in the skin's ability to regulate and rejuvenate itself. Uneven skin tone and texture can be traced back to dry, rough looking patches of skin.
Is sun damage to skin reversible?
In light of these worrying effects, you're likely wondering what helps sun damaged skin? In the first instance, it's very important to avoid sun exposure as much as possible by using a broad-spectrum sunscreen, wearing a hat and sunglasses and seeking shade especially during peak UV hours. In terms of how to even skin tone from sun damages skin, research from CeraVe¹ suggests that using skincare products containing ceramides after sun exposure helps support skin and its moisture barrier and therefore help skin better defend against the appearance of hyperpigmentation, skin changes and redness.
CeraVe products to help care for sun damaged skin
The entire CeraVe skincare range is enriched with three essential ceramides, making our products well suited to help care for sun damaged skin on the legs, body and face. Here are some product recommendations from the CeraVe experts to help provide hydration and support.
CeraVe Hydrating Cleanser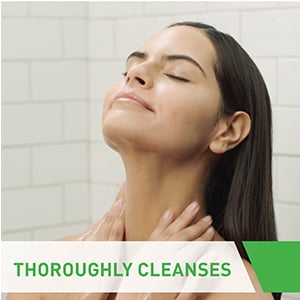 Caring for sun exposed skin starts at the beginning of your routine with a facial cleanser containing hyaluronic acid and ceramides. Our CeraVe Hydrating Cleanser is formulated with three essential ceramides and hyaluronic acid to help hydrate dry, sun exposed skin and support the skin's natural barrier.
CeraVe AM Facial Moisturising Lotion with SPF 15
Protect your face with our CeraVe AM Facial Moisturising Lotion with SPF 15. This broad spectrum facial moisturiser provides 24 hour hydration and skin barrier support, with SPF to help protect against future UV skin damage.
CeraVe Moisturising Lotion
For the body we recommend using our CeraVe Moisturising Lotion as an ideal body lotion for the sun exposed skin. This body moisturiser helps nourish and hydrate dry, sun exposed skin thank to three essential ceramides.
CeraVe Moisturising Cream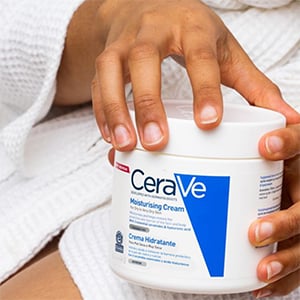 If your skin is feeling very dry after sun exposure, we recommend our thicker CeraVe Moisturising Cream for the body. The rich formula can be used in the daytime, or as our best night cream for sun exposed skin.
Now that you know hot to care for UV exposed skin with a skincare regime containing ceramides and hyaluronic acid, why not learn more about how best to care for your unique skin type. Read our guide
Skin Types 101: What Type of Skin Do I have?
for help catering
your skin regime to your skin type.
¹Practical Dermatology, July 8, 2021 (https://practicaldermatology.com/news/cerave-research-highlights-the-impact-of-uv-exposure-on-the-skin-barrier-and-the-benefits-of-ceramides)