Facial Cleansing 101: How to Cleanse Skin
EVERYDAY SKINCARE
Cleansing your skin and removing any excess oil and dirt build-up is an important first step in any skincare routine. Skin is exposed to potential irritants and external elements throughout the day such as bacteria, pollutants, and dirt which can compromise your skin's health.
Skin cleansing should be done daily with a facial cleanser that suits your skin type. The ideal facial cleanser contains nourishing ingredients that help to maintain and protect your skin's barrier, these ingredients will have similar pH levels to that found on the skin. After cleansing, your skin should not feel tight or dry. Following skin cleansing, select an effective moisturiser that will leave the skin feeling soft, nourished, hydrated and refreshed.
The CeraVe Range is comprised of three facial cleansers which have been developed with dermatologists to cleanse without disrupting the skin's barrier.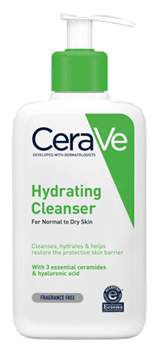 The CeraVe Hydrating Cleanser is suitable for normal to dry skin types. The soap-free, non-foaming formula gently cleanses away makeup and irritants while providing your skin with a boost of hydration.
Featured ingredients included in this facial cleanser:
Three essential ceramides , protective ingredients that ensure the skin's barrier is not disrupted during the cleansing process.
Hyaluronic acid , a powerful ingredient that retains moisture to help keep the skin hydrated.
The CeraVe Hydrating Cleanser should be paired with: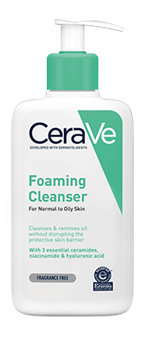 The CeraVe Foaming Facial Cleanser is a refreshing facial wash for normal to oily skin types. It deeply cleanses the skin removing excess sebum which can cause breakouts. The gel formula washes away makeup and irritants exposed to during the day, leaving skin feeling clean but not tight or dry.
Featured ingredients included in this facial cleanser:
Three essential ceramides, which help strengthen the skin's protective barrier, helping skin retain moisture.

Niacinamide , an antioxidant that helps to reduce signs of redness.
The CeraVe Foaming Cleanser should be paired with:
Facial moisturiser:

the

NiacinamideCeraVe PM Facial Moisturising Lotion should be applied every evening after facial cleansing.

Body care:

the

CeraVe Moisturising Lotion's lightweight, oil-free formula is gentle on skin and can be applied to the body as often as needed.

Hand care:

the

CeraVe Reparative Hand Cream is designed to provide hydration after frequent hand washing.

Formulated to smooth, nourish and cleanse the skin, the CeraVe SA Smoothing Cleanser is suitable for dry, red, rough and bumpy skin. This gel textured cleanser washes away debris on the skin while gently exfoliating. The CeraVe SA Smoothing Cleanser will not disrupt the skin's barrier whilst cleansing as it does not over strip the skin of its natural oils.
Featured ingredients included in this facial cleanser:
Three essential ceramides are lipids (oils) found naturally in the skin which helps to hydrate and strengthen skin.

Salicylic acid gently exfoliates the skin, loosening the "glue" that holds skin cells together, removing dead skin cells.
The CeraVe SA Smoothing Cleanser should be paired with:
How To Correctly Cleanse Skin
While the facial cleanser you use may differ between your morning and evening skincare routine, and the skin type you have, there are a few simple steps everyone can follow on how to use a facial cleanser.
Splash your skin with warm water and keeping it moist before applying the cleanser.

Cleanse your skin with a hydrating and gentle cleanser, applying the product in small circular motions.

If you're wondering how to double cleanse, simply repeat the above steps to achieve a deeper, more thorough cleanse.

Rinse the skin with water and gently pat dry before continuing your skincare routine with a serum, moisturiser , , and eye cream of your choice.