What is the Correct Skincare Routine Order?
EVERYDAY SKINCARE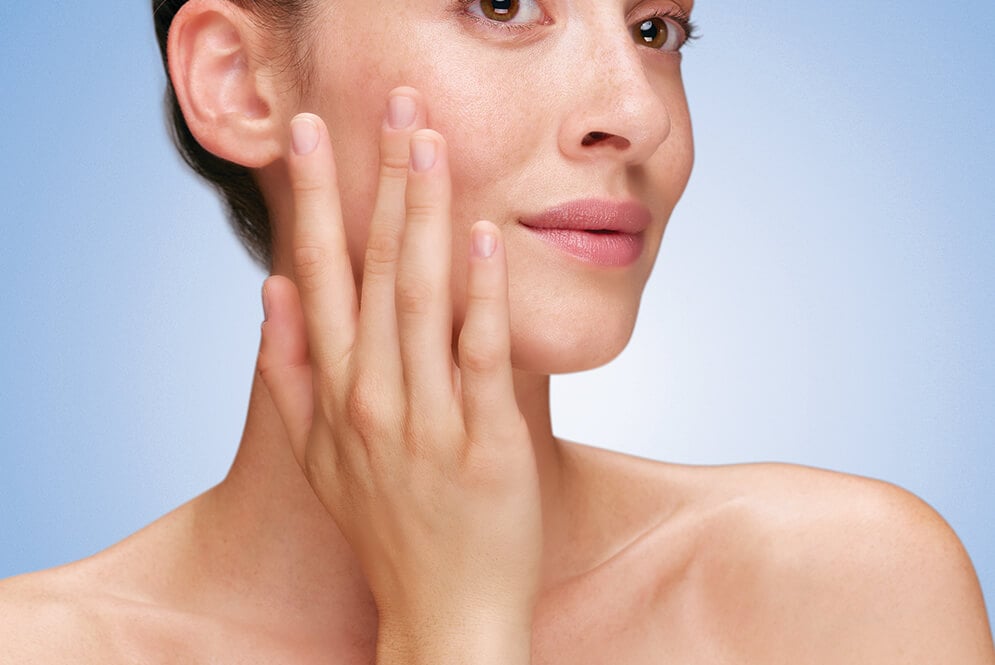 If you're new to the world of skincare, it can be difficult to know where to start when you're putting together a daily skincare routine. With such a wide range of creams, moisturisers, sun protection and serums to choose from, which product should you apply first?
This guide will teach you everything you need to know about
skincare order, because it actually matters a whole lot more than you might think. No matter whether you've got
dry skin
or
oily skin
, we'll break down your CeraVe skincare steps in order, along with application advice and tips to get the most out of your skincare routine.
Why does the order of skincare products matter?
If you're someone who's tempted to throw on your skincare products in any which way and hope for the best, it's worth taking the time to understand why the order of face products actually does make a significant difference. It's not a matter of convention or arbitrary rules. Rather, applying your skincare products in the 'correct' order simply means the order that will ensure each product will be as efficacious as possible.
In fact, skincare order becomes crucial right at the start of any routine, because the importance of cleansing thoroughly to create a blank canvas is difficult to overstate. Why? If there are traces of pollution, makeup or even sebum (the skin's natural oil) on your face, this will hinder the process of beneficial ingredients from your skincare products absorbing through the skin's surface. For this reason, including a cleanser at the start of your face routine order is an essential first step.

Once you get past the cleansing stage, there's a simple rule of thumb you can use to guide the rest of your skincare routine order: generally, products should be applied from thinnest to thickest in texture. Just like with the cleanser rule, this rule is designed to ensure all of your products can be properly absorbed. Thinner formulas cannot penetrate thicker formulas, so if, for example you applied a thin hyaluronic acid serum over a thick cream formula, the serum wouldn't have a chance to do you any good.
Master your face routine order with CeraVe skincare products
Now you know all the basics of deciding a skincare routine order, it's time to get down to the details. We've put together a simple routine laying out all your skincare steps in order, featuring CeraVe product recommendations enriched with ceramides to help support your skin's natural moisture barrier. Keep reading for our step-by-step guide to the correct skincare routine order.
Start with a cleanser
As we mentioned, cleansers are a non-negotiable first step. But that doesn't mean you don't have any choice in the matter. There are many different types of cleansers and you should choose your formula according to your skin type.
If you have dry skin, use a facial cleanser like our CeraVe Hydrating Cream-to-Foam Cleanser. If you have oily skin, opt for our CeraVe Foaming Oil-Free Cleanser.
Whichever formula you choose to kick off your skincare order, apply to a damp face and gently massage in circular motions before thoroughly rinsing with lukewarm (not hot) water. Then pat (don't rub) your face dry with a clean towel.
Pat on a face serum
Immediately after your cleanser is the perfect time to apply your facial serum of choice. Using more than one serum at a time is fine, however we recommend sticking to no more than two or three to ensure the ingredients can be properly absorbed.
The thinnest to thickest rule applies for layering serums too within your skincare order, so we recommend starting your morning skincare regime with our CeraVe Skin Renewing Vitamin C Serum for Anti-Ageing. Vitamin C is an antioxidant, so applying this serum at the start of the day will help protect your skin from the negative effects of pollution and other environmental aggressors.
In the evenings, our CeraVe Skin Renewing Retinol Anti-wrinkle Serum will help stimulate skin renewal and support collagen production for brighter and more youthful looking skin. Retinol is a potent anti-ageing ingredient, so a small amount over your entire face will be enough. Vitamin C and retinol are both powerful ingredients, so we recommend integrating them into your routine gradually to avoid overwhelming your complexion. Never use them in the same routine - but they can be used morning and night on the same day.

Complete your AM or PM skincare with our CeraVe Hydrating Hyaluronic Acid Serum to draw in moisture to your complexion. This formula also contains vitamin B5 to help maintain moisture levels in the skin. Apply a thin, even layer to the face and neck.
Gently apply an eye cream
Next up in the correct order of skin care is patting on a dedicated eye cream. The skin around the eye contour is more delicate than the rest of your face, so a specially formulated eye cream is beneficial to help nourish the area.

Gently apply our CeraVe Eye Repair Cream, being sure not to tug at the skin around the eye. It's enriched with a Marine and Botanical Complex to target dark circles and puffiness.
Hydrate with a facial moisturiser
Last but not least, finish up your morning skincare routine with a facial moisturiser to keep your complexion hydrated. In the morning, use our CeraVe AM Facial Moisturising Lotion with SPF 15 enriched with ceramides to support the skin moisture barrier and sun protection to minimise the impacts of UV exposure. For your skincare order at night, use our CeraVe PM Facial Moisturising Lotion, which has MultiVesicular Technology to help maintain hydration levels in the skin for 24 hours.
Congrats, that's the final step! Now with a lot of consistency and a little time, you'll begin to see some skin benefits.
Now that you've mastered your skincare routine order, why not expand your knowledge by reading our next guide on How to Hydrate Your Skin: Face and Body?