Skincare Routine for Combination Skin
EVERYDAY SKINCARE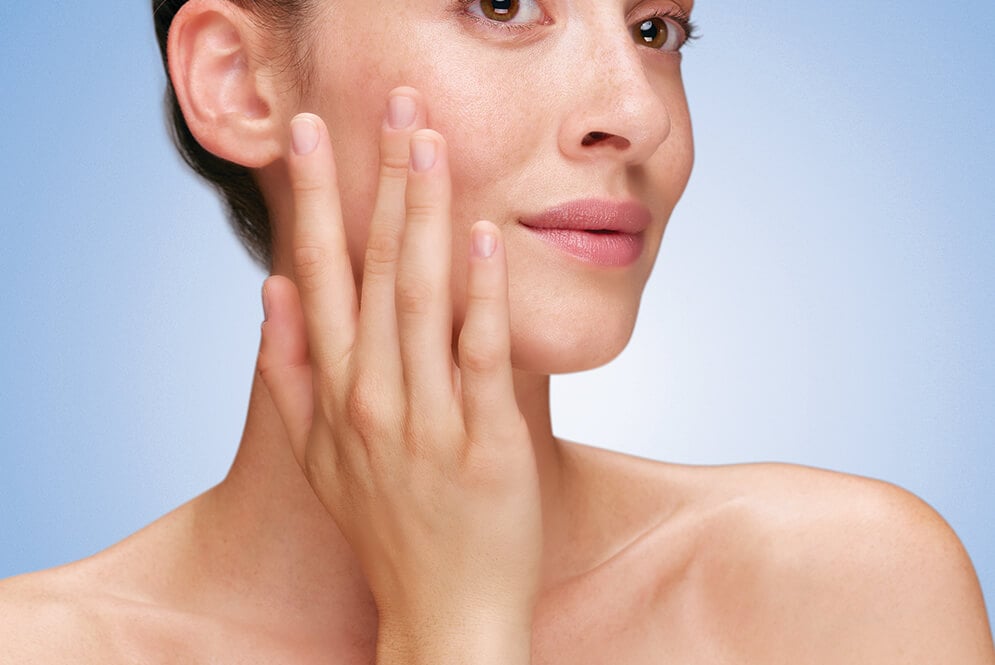 If you have
combination skin
, managing your skin type requires a carefully selected blend of products to address the opposing forces of oiliness and dryness in one skincare routine. When it comes to how to look after combination skin, it's all about controlling and removing excess oil without exacerbating the drier parts of your complexion.
So, how can you achieve this? A skincare routine enriched with ingredients that strengthen the skin's natural barrier can help to address combination skin causes and balance your complexion at the same time. Read on to hear combination skincare advice from the CeraVe experts, covering everything from how to wash combination skin to what ingredients to include in your morning and night routines.
What is combination skin?
If your complexion shows the signs of oily skin in some areas and looks like dry skin in others, you likely have a combination skin type. Common signs and symptoms of combination skin include an oily T-zone and dry cheeks or jawline. Your T-zone includes your chin, nose and forehead, which will typically look shiny with visibly enlarged pores or blackheads. In contrast the skin on your cheeks and jawline will likely feel dry or tight and might look red, flaky or dull.
What causes combination skin?
As with most skin types and concerns, combination skin can be traced back to a range of possible causes. For many people, having a combination skin type can come down to your genes, while hormones and stress levels can also play a part in influencing your level of sebum (oil) production. Using skincare products that are the wrong fit for your skin's needs can also result in a complexion that's oily in some areas and dry in others.
How to care for combination skin?
Combination skin types require a well thought out skincare routine that meets your skin's unique needs. This skin type needs a highly efficacious cleanser to thoroughly cleanse clogged pores and remove excess sebum. However, it's equally important that skincare products for combination skin don't strip away too much natural protective oils from the dry areas of your face.
Be sure to enrich your skincare regime with hydrating and supportive ingredients that are non-comedogenic with a lightweight texture, such as hyaluronic acid and ceramides. Hyaluronic acid helps the skin retain moisture by attracting water molecules to the skin's surface and holding up to 1000 times its own weight. Ceramides are a natural element of the skin's moisture barrier. By including products containing ceramides in your skincare routine, you can help support the skin barrier on the dry areas of your face, helping the skin to keep moisture in and minimising discomfort.
Your CeraVe combination skin routine
Here's a simple skincare regime to help you achieve a radiant, hydrated complexion by working with your combination skin type. This routine will help re-balance your skin by utilising targeted ingredients suited to your skin type.
Cleanser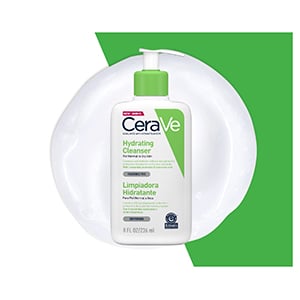 When you're thinking about how to cleanse combination skin, look for a facial cleanser that will remove dirt, oil and impurities without overly stripping oils from the dry areas of your complexion.
Our CeraVe Hydrating Cleanser is well suited for use as a cleanser for combination skin. As with all CeraVe formulas, this cleanser was developed with dermatologists to remove impurities while simultaneously providing 24 hour hydration. This cleanser includes hyaluronic acid to help the skin retain water molecules for optimal hydration.
Wet your skin with lukewarm water and gently massage the cleanser before rinsing and patting dry. Avoid using hot water or rubbing your skin with a towel, as both these methods can exacerbate symptoms of dry skin.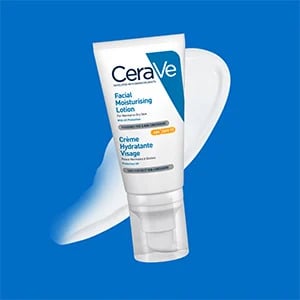 Day Moisturiser
A good moisturiser for combination skin needs to be nourishing enough to hydrate your skin, yet not so heavy for the oilier parts of your face. In the daytime, it's also a good idea to look for a facial moisturiser with sun protection.
Our CeraVe AM Facial Moisturising Lotion with SPF 15 has a non-comedogenic formula that won't clog your pores. Enriched with three essential ceramides to support your skin's natural barrier, comforting niacinamide and hydrating hyaluronic acid, this moisturiser also features SPF 15 to protect your skin from daily sun exposure.
Apply the lightweight formula liberally over your entire neck each morning at least 15 minutes before heading out into the sun. Reapply every two hours to maintain SPF15 protection.
Night Moisturiser
When you're seeking out the best moisturiser for combination skin to use at night, it's important to avoid thick, heavy formulas. While rich moisturisers can be good for dry or mature skin types, they can often be too much for skin prone to oiliness or blemishes.
Our CeraVe Facial Moisturising Lotion is an ideal PM moisturiser for combination skin, due to its lightweight, oil-free formula. This formula utilises MultiVesicular Technology [MVE] to maintain hydration levels in the skin for 24 hours.
Use a liberal amount over your face and neck to help minimise transepidermal water loss (TEWL) overnight.
No matter your skin type, supporting your skin's moisture barrier is important for maintaining a balanced complexion. Read our guide What Causes a Compromised Skin Barrier and How To Fix It to learn more.