What Does Non-Comedogenic Mean?
EVERYDAY SKINCARE
What is Non-Comedogenic Skincare?
'Non-comedogenic' formulas have become a buzzword in skincare, leaving many people wondering what the term comedogenic means. Simply put, these terms refer to whether or not certain skincare products include ingredients that can have the effect of clogging the pores.
Ensuring your skincare regime is free of comedogenic ingredients is especially important for people with combination or oily skin types. However, while these skin types may see the most negative effects from pore clogging ingredients, all skin types can still benefit from avoiding them.
Read on to learn everything about the meaning of non-comedogenic skincare, ingredients to look for and how to create a daily skincare regime that won't clog pores.
What does non-comedogenic mean?
'Comedones' is the scientific name for a certain kind of pimple or blemish that is caused when a pore becomes blocked with debris including excess sebum (oil), dead skin cells or hairs.
Therefore in skincare, non-comedogenic is a term that refers to ingredients, formulas and products that don't clog pores (i.e. don't create comedones).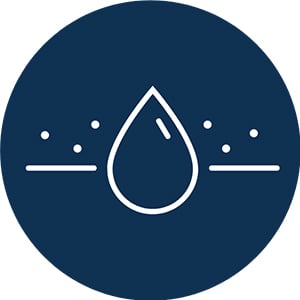 What ingredients are non-comedogenic?
Non-comedogenic and oil free products may be one and the same, but an absence of oil is just one of the things to look for in non-comedogenic skincare formulas. Look for products containing purifying ingredients like salicylic acid to create a skincare regime that won't clog pores.
Products containing salicylic acid are well suited to help minimise the occurrence of comedones due to this ingredient's exfoliating properties.
What skin types will benefit most from non-comedogenic products?
Ensuring the products in your skincare regime are non-comedogenic can be beneficial for people with any skin type, however it's especially important for people with an oily skin type or skin prone to mild acne.
Non-comedogenic skincare regime
From non-comedogenic facial cleansers to nourishing body moisturisers, it's important to seek out formulas that won't clog pores for every step of your daily skincare regime.
Read on to learn how to integrate CeraVe's non-comedogenic skincare products into your daily regime to keep your skin hydrated and pores unclogged.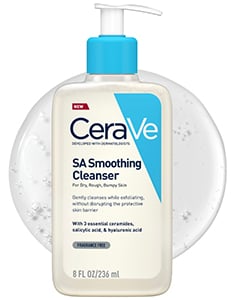 Cleanser
Start your daily regime with a non-comedogenic cleanser to deeply clean the skin and remove the dead skin cells and residue that can cause clogged pores.
Our CeraVe SA Smoothing Cleanser does this by harnessing the combined power of salicylic acid, hyaluronic acid and three essential ceramides. Salicylic acid has keratolytic properties, meaning it helps loosen excess cells on the skin's surface to prevent pores from becoming clogged.
CeraVe recommends using this ideal cleanser for oily skin each morning and night as the first step of your skincare regime. To apply, massage gently onto wet skin before rinsing thoroughly.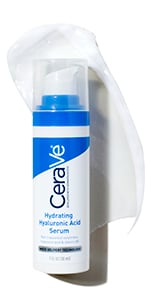 Serum
Serums are characterised by their light textures and high concentrations of nourishing ingredients. By including highly beneficial humectant ingredients in a lighter texture, facial serums are an optimal way to achieve hydrating benefits for combination or oily skin types without increasing the likelihood of clogged pores.
Our CeraVe Hydrating Hyaluronic Acid Serum helps replenish the levels of this natural skin moisturising ingredient. Hyaluronic acid exists naturally in the skin, however replenishing it can help attract water molecules to the skin's surface without the need for any other potentially pore-clogging ingredients.
To see the most benefits from this serum, CeraVe recommends applying a small amount to the entire face and neck after cleansing before your moisturiser and sun protection.
Eye cream
The Marine Botanical complex in our CeraVe Eye Repair Cream is complemented by hyaluronic acid, niacinamide and ceramides to minimise the appearance of dark circles and puffiness while hydrating the under-eye area. This advanced formulation is non-greasy and non-comedogenic, meaning it's suitable for all skin types.
CeraVe recommends gently smoothing on a few small dots of this eye cream each morning and night to intensely hydrate and brighten the entire eye area. This formula is well suited to be used alone or under makeup depending on preference.
Moisturiser with SPF
No matter your skin type, moisturising is always an essential step in any daily skincare regime. While those with combination or oily skin types may worry that a facial moisturiser might increase the skin's oiliness, this is not the case with CeraVe's non-comedogenic skincare products. Additionally, skipping hydrating skincare such as moisturisers can actually cause the skin to produce more oil in compensation.
For an oil-free and non-comedogenic moisturiser, we recommend the CeraVe AM Facial Moisturising Lotion with SPF 15 for daily use. This multitasking formula uses advanced MVE Technology to provide 24 hour hydration with a sheer finish on the skin. The broad spectrum SPF 15 protection also shields skin from the damaging effects of UVA and UVB rays.
To apply, use a liberal amount over the face and neck every morning. Be sure to apply at least 15 minutes before sun exposure to give the SPF enough time to properly settle into the skin.
Body care
A well-planned skincare regime should also include body care in the form of a nourishing and non-comedogenic body lotion.
We recommend integrating a body moisturiser like our CeraVe Moisturising Lotion into your daily skincare regime to help strengthen the protective skin moisture barrier barrier. This oil-free, lightweight moisturiser is enriched with hyaluronic acid and ceramides in a non-comedogenic formula.
Apply every morning and night or as often as needed to hydrate the body. Use a liberal amount for best results.
CeraVe's skincare range is formulated with dermatologists to include non-comedogenic products to be suitable for all skin types, including combination and oily skin. To learn more about our targeted skincare options for skin prone to clogged pores, read Your Guide to Salicylic Acid for Oily & Acne-Prone Skin.