How to Hydrate Your Skin: Face & Body
EVERYDAY SKINCARE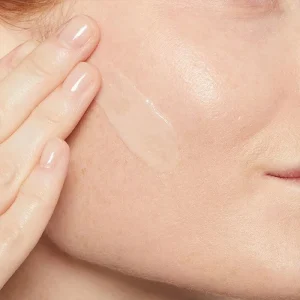 From changes in the weather to hot showers, there are many lifestyle factors that can lead to dehydrated skin. If you skin is looking dull and feeling tight, sensitive or prone to itching sensations, you likely have dehydrated or dry skin.
There are numerous reasons to keep your skin hydration levels high. Aside from promoting healthy looking skin, moisturising helps keep the skin's natural barrier strong, allowing it to protect against environmental aggressors and minimise water loss through the skin's surface.
Keep reading to learn how to keep your skin hydrated with the most effective ingredients and products. We'll also walk through an easy-to-follow hydrating skincare routine.
What ingredients hydrate skin?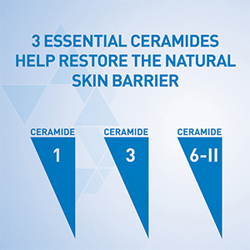 Choosing products with the right ingredients is the most important part of your hydrating skincare regime. Here are the top ingredients to look for to efficiently increase hydration levels in your skin.
Hyaluronic acid:
Asking is hyaluronic acid' hydrating? is like asking if water is wet. The answer is yes. This sugar is naturally produced by the body and can attract and retain 1,000 times its weight in water
Ceramides:
The skin's natural lipids (oils) are known as ceramides. They make up over 50% of the skin's composition and help protect against external aggressors. Including ceramides in your skincare routine helps support your skin barrier, helping lock in moisture.
What is the difference between hydrating and moisturising?
The terms 'hydrating' and 'moisturising' are often used synonymously, but there's an important difference. Hydrating ingredients help increase skin's hydration levels by attracting water molecules. In contrast, moisturising ingredients help seal in moisture to the surface of your skin, minimising transepidermal water loss (TEWL).
How to hydrate skin from the inside?
Some of the best ways to hydrate your skin is to work from the inside out. It might sound obvious but drinking enough water can make a big difference to your skin's hydration levels. Between 6 and 8 glasses each day is usually enough, but this varies from person to person. If you struggle drinking that much water, fruits and vegetables are also a great source of water.
How to hydrate skin without clogging pores?
If you don't experience the signs of dry or dehydrated skin, you might be tempted to skip out on hydrating skincare. However all skin types need hydration, including combination skin and oily skin . You can rest assured that all CeraVe products are non-comedogenic, meaning they won't clog your pores.
Build a hydrating skin routine with CeraVe
By sticking to a simple yet intensively hydrating skincare regime, you can effectively improve your skin's moisture levels. Here's our step-by-step guide.
Hydrating Cleanser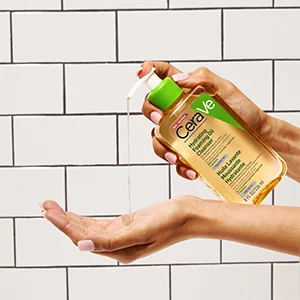 Begin your hydrating skincare regime by thoroughly cleansing your face with a gentle yet effective cleanser formula that won't dry out your complexion or strip skin of its natural oils. Washing your face with harsh soaps can deplete your skin of hydration, so it's important to use a specially formulated cleanser.
Our CeraVe Hydrating Cleanser is suitable for normal to dry skin. This facial cleanser contains ceramides and hyaluronic acid to hydrate your skin as it washes away dirt and impurities. If your skin is on the dry to very dry side, we recommend opting for our CeraVe Hydrating Foaming Oil Cleanser. The ultra-mild foaming oil formula contains squalane for intensive skin moisturisation, as well as hyaluronic acid and our 3 essential ceramides.
Massage your chosen cleanser gently in circular motions over your face before rinsing and patting dry with a clean towel. Soaps can have a drying effect on the skin on your body too, which is why our cleansers are also suitable for use as a body cleanser. Either of the above cleansers can be used on your body as well as your face.
Hyaluronic Acid Serum
Once you've created a clean canvas with your cleanser, one of the most important tips on how to hydrate your skin is to use a facial serum formulated to deliver a potent dose of hydrating ingredients.


Our CeraVe Hydrating Hyaluronic Acid Serum provides skin with much needed hydration for up to 24 hours. The refreshing gel-cream formula is designed for use post-cleansing on its own or layered under our moisturiser for optimal hydration. Apply several drops evenly over your face and neck daily, avoiding the eye area.
Day Moisturiser
Next, a facial moisturiser will add instant comfort and hydration to your skin and help create a soft, dewy base for makeup. In the daytime, reach for an SPF enriched formula like our CeraVe AM Facial Moisturising Lotion with SPF 15 . This moisturiser helps strengthen the skin barrier while simultaneously protecting your skin from UV radiation. Smooth over your entire face and neck as needed.
Night Moisturiser
Follow up in the evening with a face moisturiser designed for the PM. Our CeraVe Facial Moisturising Lotion has a lightweight texture that will help seal in moisture as you sleep. Hyaluronic acid and 3 naturally occurring ceramides help support natural skin recovery during the night. Apply to your face and don't forget your neck too!
Body Moisturiser
It's not just your face that needs skin hydration. Hot showers and environmental exposure can easily leave you with dry to very dry skin . We recommend using a rich body moisturiser such as our CeraVe Moisturising Cream to leave your skin soft and supple.
CeraVe's skincare range is developed with dermatologists to provide lasting hydration for all skin types. To learn more about targeted skincare regimes for different skin concerns, read our guide on skincare for oily skin.