How to Manage Dark Circles Under Eyes
EVERYDAY SKINCARE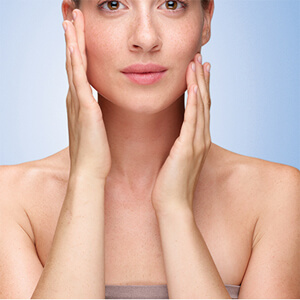 It's a near universal experience, waking up after a late night only to find unwanted dark circles lurking under the eyes. While it's easy to assume that lack of sleep is the only causal factor of dark circles under the eyes, there are a whole list of other possible culprits.
Read on to learn everything you need to know about the varied causes of dark circles and under eye bags. An anti-dark circles skincare regime will also be walked through, as well as general care tips to visibly reduce under eye bags and dark circles.
What are the features of dark eye circles?
Before diving deeper into ways to minimise dark circles, it's useful to first understand their features and causes. Under eye circles are a common skin concern characterised by visible darkness, dullness and puffiness in the area under the eyes. Dark circles are often an unwanted addition to the complexion because they can sometimes make people look fatigued.
What causes dark circles under eyes?
Dark under eye circles can be caused by many different things. Your likelihood of developing dark under eye circles also depends on genetic predisposition and external factors such as lifestyle, diet and skin type.
Stress and sleep deprivation are two of the most common causes of bags under the eyes, however there are also lesser known causes. Excessive exposure to UV radiation from the sun is known to worsen the appearance of under eye circles, as can some medical conditions.
The reason the under-eye region is so easily influenced is due to the lack of fatty tissue in this area, which makes the skin extremely thin and sensitive. Ageing is also a contributing factor to dark circles because the skin slowly becomes thinner and the eyes more hollow over time.
How to get rid of dark circles
A healthy lifestyle combined with targeted skincare products is the best way to improve the appearance of the under-eye area. When it comes to how to address dark circles, there is no instant remedy. However, by making small changes to your lifestyle and incorporating an eye repair cream into your daily skincare regime, it's possible to minimise their appearance. Here are some key tips to help with dark circles and under eye bags.
Apply an under-eye cream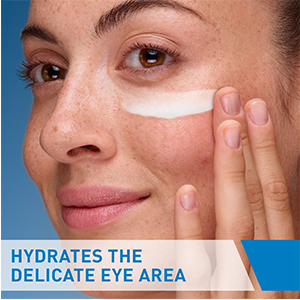 Consistently applying a well-formulated under eye cream is one of the most effective ways to help reduce the appearance of dark circles. Our CeraVe Eye Repair Cream is formulated with a Marine and Botanical Complex suitable for all skin types. This fast-absorbing, fragrance-free eye cream has been developed with dermatologists to be suitable for even sensitive skin types. Hyaluronic acid, niacinamide and three essential ceramides are all included in this eye cream to help effectively hydrate the area and visibly reduce darkness.
To use, apply in several small dots around the entire under eye area. Be sure to be very gentle as you smooth the cream into the skin until fully absorbed. This will avoid placing stress on the delicate under-eye skin.
Be gentle when removing makeup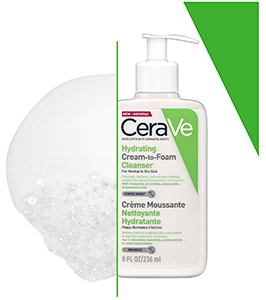 The skin under the eyes is so sensitive that even slight rubbing during the cleansing process can lead to redness, puffiness or darkness. CeraVe recommends using an effective cleanser to remove eye makeup without rubbing.
Our CeraVe Hydrating Cream-to-Foam Cleanser for normal-to-dry skin thoroughly removes makeup, dirt and impurities without drying the skin or weakening the skin's natural barrier.
Our normal-to-dry skin thoroughly removes makeup, dirt and impurities without drying the skin or weakening the skin's natural barrier.
To use, massage the cream formula onto damp skin to create a foam. Use caution around the eye area and allow the effective formula to remove makeup without the need to use force. Always follow up your cleanser with a facial moisturiser.
Get eight hours of sleep
Avoid the most well-known cause of dark circles by prioritising getting adequate sleep every night. It can be difficult to concentrate on getting to bed early in the face of a busy schedule, but sleep deprivation can cause skin to appear dull and pale, allowing dark circles to show. Interestingly, oversleeping can also exacerbate dark circles, so it seems that a consistent routine is key.
As well as the duration of sleep, the way you sleep can also influence dark circles. Try to sleep with an elevated head to avoid under-eye fluid build up that might create puffiness and bags.
Stay hydrated
The blood vessels under the eyes tend to enlarge when the body is dehydrated, directly increasing the appearance of dark circles. That's why staying hydrated by drinking water and using hydrating topical skincare products containing ceramides is helpful to minimising under eye circles.
What ingredients work to effectively hydrate under the eyes?
It's important to understand which ingredients are effective at hydrating the under-eye area to help identify the best eye cream for dark circles. Make an informed choice by seeking out the below ingredients in your eye cream.
Niacinamide (also known as vitamin B3) aids hydration by helping strengthen the skin's natural moisture barrier and helps reduce uneven pigmentation. We also recommend integrating products formulated with ceramides to further support the skin barrier and allow the skin to maintain its natural moisture levels.
Hyaluronic acid hydrates the skin in a different way by retaining moisture on the skin's surface and increasing the hydration levels in the skin.
CeraVe serums are formulated with dermatologists to intensely hydrate the skin and support its natural moisture barrier. Explore our facial serums complement your eye cream application.